It can be stressful hosting a party.
It can be particularly stressful hosting a party with a toddler running around.
W doesn't understand that the moment Mommy starts rubbing butter on the turkey is not the best time to ask for a story to be read.
W also doesn't understand that he is not helping Daddy when he starts dumping ice out of the cooler onto the floor.
Or, maybe he does understand and he is totally messing with us. Hmm…
Kids may make things a tad bit more difficult, but that doesn't mean you should stop throwing parties.
We just celebrated "Friendsgiving" this past weekend, and everyone had a great time!
So, I am here to share with you some tips that I picked up while preparing for the party.
Feel free to share some of your own tips on How to Throw a Party with Kids Underfoot in the comment section.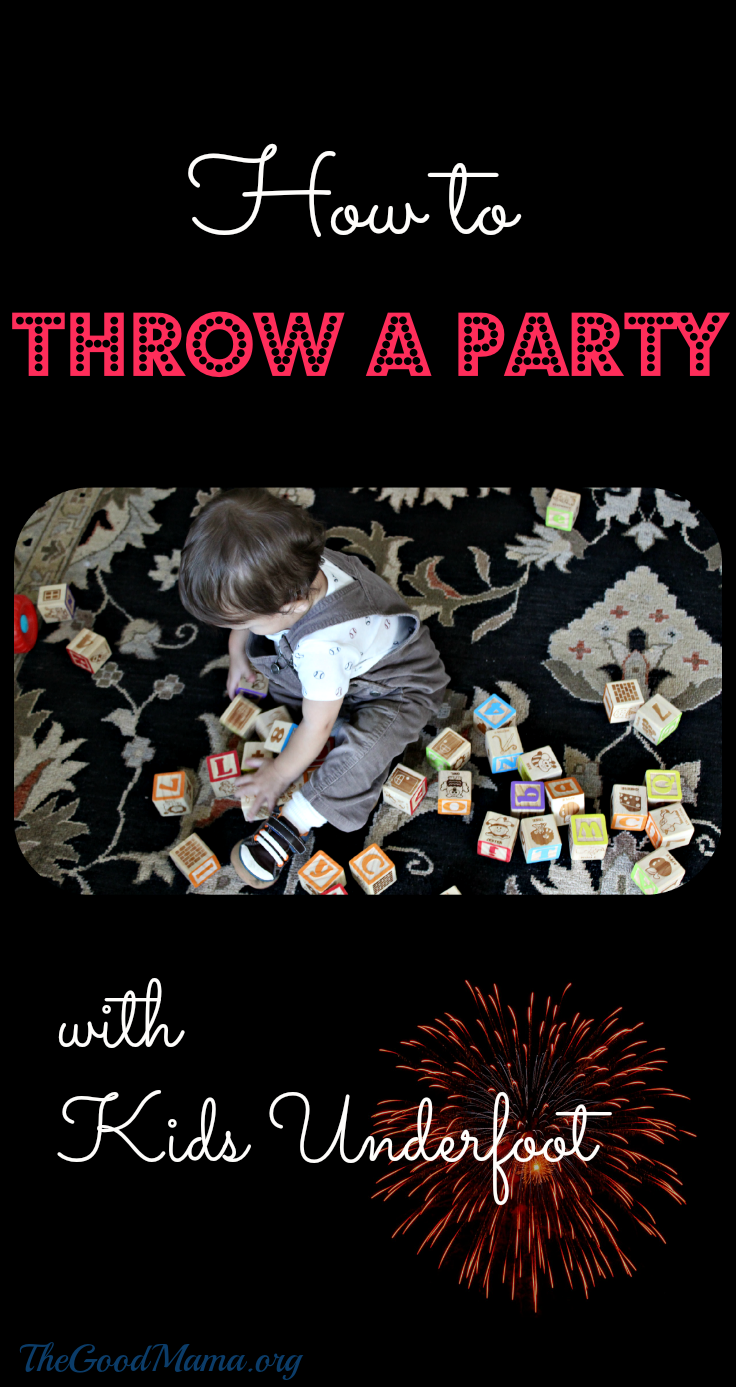 How to Throw a Party with Kids Underfoot
Make a plan: Lists are my best friend. In the beginning of the week before the party, I like to write down all the supplies I need and where to buy them. It's also helpful to write down exactly what you are making and what day of the week you are making each dish (thank you, Mom for that advice). For example, Tuesday I bought most of my ingredients, Wednesday I started the broth for the gravy, Thursday I made the sweet potato bake, etc.
Plan make-ahead meals: Whenever I am hosting a party, I like to prepare as much as I can the day before. I'd rather be enjoying my time with guests as opposed to slaving away in the kitchen. Check out these amazing make-ahead meals from Bon Appetit.
Ask for help: I was super lucky my mom offered to come watch W one day during the week, so I could get some prep work done. If you are able, definitely get help at least one day the week before the party so you have time to plan on your own.
Assign jobs: It can be a little overwhelming if you have to do the cooking and cleaning all by yourself. If you write down a list of things you need to get done, you can pass some of those jobs off to your spouse or even your children if they are old enough. Although, I don't think W is quite ready to make a pumpkin pie on his own. 
Bring out something new: I swear W plays so nicely by himself until I really need him to play by himself.  So, I often bring out a new toy or something he hasn't played with in awhile when I need to get some work done. This Felt Cornucopia kept W busy!
Try to stay on schedule: It can be tempting to forgo naps and sleep schedules while you are getting ready for a party. Sometimes you have no choice. Though, if you can, try to keep your baby on his normal schedule. The last thing you need at a party is a tired, cranky toddler!

It can be a lot of work throwing a party with kids underfoot, but it is definitely worth it. I love creating fun memories with my family and friends.
How about you? What are some ways you make things easier when you throw a party with kids underfoot?