It's time for my family's annual trip to the Jersey Shore! Every year my mom's side of the family (she's one of 8; we take up quite a bit of space on the beach) crams into three rental houses and spends a week eating good food, joking around, playing games, and, most importantly, relaxing. 
This year I'm feeling my usual excitement and anticipation, but I'm also feeling slightly anxious. Why? My anxiety comes from the crazy toddler I now have on my hands who at this very moment is using nap time to slam his feet against the side of the crib as he sings toddler-jibberish to himself.
Last year, with a pre-walker, the beach trip was simply perfect. He sat all day in the sand, happily playing with his toys. Sure he consumed a bit more sand than I would have liked (thumb-sucking + sand = not a good combination), but we were all able to lay back, chill in our beach chairs and listen to the peaceful sound of the waves.
I have no clue how this year will turn out, but I'm willing to bet I'll be getting a much better workout than last year. Especially since I have such a water-lover on my hands.
While I no doubt will enjoy splashing and jumping in the waves with W, I also want to come up with some fun games and activities to keep him distracted up in the sand.
Here's a beach bucket list for toddlers to keep them content and entertained, so mom and dad can relax… as much as one can with a toddler.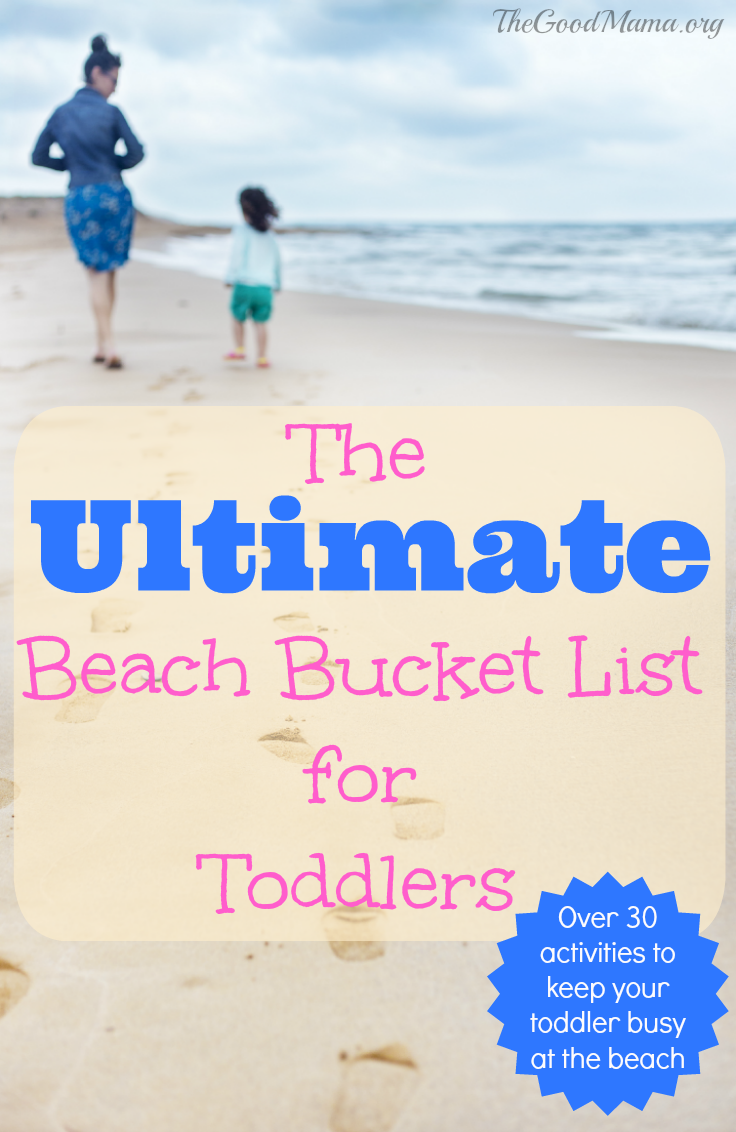 Beach Bucket List for Toddlers
Sand Play 
Sensory play: The beach is the biggest sand box in the world. Give your toddler different sized buckets, shovels and cups and let them go to town.
Construction site: As I've mentioned before, W is currently obsessed with all things that go. We'll be bringing a few construction trucks so he can spend all day building and destroying sand cities.
Buried treasure or dinosaur bones: Bring small toys or use shells or rocks and bury them. Let your toddler have fun digging them up with shovels or even paint brushes.
Practice drawing skills: Find a stick and have your toddler practice drawing and identifying shapes, letters, or numbers.
Play pictionary in the sand: Use that same stick to draw pictures in the sand and see if your toddler can guess what you are drawing. It's a great way to build vocabulary too!
Imaginative play: Encourage your toddler to use his imagination. You can pretend to cook/bake with the sand. Who would like a sand pie?
Bury your toddler's feet or hands OR have them bury yours
Search for animal tracks or make your own: There are usually lots of seagull tracks in the sand, but you can make some tracks with a stick or your hand and see if your toddler can guess the animal.
Make a sandman: Be sure to sing, "Do you want to build a sandman?" while you make it.
Make foot/handprints: Head down closer to the water and see how long it takes for the waves to erase your prints.
Sand experiments: Bring a magnifying glass and take a closer look at the sand or see what happens when you add a little water to the sand.
Make sand patterns: Use a toy, shell, stick or rock and demonstrate how to make patterns in the sand. Encourage your toddler to make his own patterns.
Shell artwork: Gather up as many shells as you can and put them together to make a picture.
Make a hill and roll balls down: You could even bring some empty plastic bottles and play a game of sand bowling.
Dig a holes: See how big a hole your toddler can dig and pour some water in to splash around.
Build a sand castle and moat: Let you toddler have fun helping you build or knocking it down. Bring along some small boats to float in your man-made moat!
Build a beach volcano: I got this idea from One Perfect Day Blog.
Beach Games 
Play I-spy: This is a great game to teach the little ones their colors!
Follow the leader: Clap your hands and encourage your toddler to follow your pattern. You can also get up and do some bigger movements.
Sing songs: Here's a great list of songs to sing with your toddler. Or, sing some beach-themed songs like, "Down by the Bay" or "Baby Shark."
Go on a scavenger hunt: Find a FREE printout on Momtastic.
Long jump: The adults in my family like playing this game, but toddlers would love to get in on the action. Draw a line in the sand and see who can jump the furthest.
Run from the waves: See how close your toddler can get to the waves and run back without getting wet.
Beach ball toss: Blow up a beach ball and toss it back and forth. Or, you can make some "rings" in the sand with a stick and try to get the beach ball in.
Make shadow puppets in the sand if it's nice and sunny
Blow bubbles 
Fly a kite 
Read some beach themed books: I like this list from 3 Boys and a Dog.
Water relay: Take a small bucket, fill it up with water, dump it into a larger one near the blanket, repeat. I have a feeling we'll be doing this one a lot.
Bring some sponges: Fill one bucket with water and see how long it takes to fill up the other one just using the sponge.
Bring a spray bottle or squirt gun: Let your toddler have fun while cooling off spraying the sand off.
Count the birds, boats or planes
Just let them run! 
After the fun in the sun is over